How Startups Can Use Improv For Pitches, Networking and Storytelling
The world of startups is filled with situations where you have to "think on your feet" and present your best self and mission critical ideas on the spot.  When you have time to plan that's great – even with the best planning you're going to be fielding unexpected questions during pitches and presentations.  People will ask you to share  your story at every networking event you go to.  A perfectly planned pitch isn't always an option.
That's why this workshop was created.
IMPROV ISN'T ABOUT BEING FUNNY
The world of improv and the world of startups have a lot more crossover than you have probably thought about.  Improv is about being in the moment, responding to and supporting the person on stage with you and keeping the audience engaged.  The principles of improv aren't guidelines about "how to be funny".  They're about concepts like "Yes, And…" to create support and dialogue and ways to engage with everyone around you.
This interactive event will help you improve your pitches and presentations, communication skills and relationships in your business using the principles of improv comedy – which, for anyone who isn't familiar, is like storytelling made up on the spot.
Expect to learn (through discussions and fun exercises):
How to think on your feet and create powerful responses to "left field" questions.
How to tell interactive stories that keep your audiences engaged, whether it's one person or a board room filled with potential investors.
How to create powerful conversations that create opportunities for pivotal business relationships.
You will walk out with skills and strategies you can start using the same day; not just ideas and fun games to play.  We look forward to seeing you there!
About the facilitator: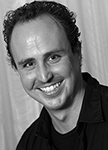 Mark J. Carter is a mentor at 1871 and believes mentoring is one of the most needed things in our professional lives; yet it's an ambiguous process that can leave people confused rather than inspired.  Because of this he created Idea Climbing™; a body of work that gives you clear strategies to get the advice, support and connections you need to solve problems.   The concept is based on Mark's 15+ years of active research (which includes interviews with some of the most successful people in their fields from serial entrepreneurs and New York Times Bestselling authors to multi-platinum artists and improvisers).
Mark attributes much of his style for presentations and interviews to the improv world.  He spent a year in the Improv Olympics (iO) intensive training, worked on the Chicago Improv Festival for four years and currently serves on the Board of Directors for Chicago Improv Productions.
WHY?
This event was created for startups after a few of them were interested in Mark's rants about the value of improv as a business skill, not just a "fun thing to do".
WHO?
Mark facilitated the event and the attendees became the stars of the event through improv games mixed with examples of how to use the games to pitch investors, share their value proposition and have more energetic conversations in the networking space.
WHAT HAPPENED

?
What could have been "fun exercises" became learning experiences to help the startups use improv to solve problems and grow their businesses faster by creating pivotal business relationships.
In addition to the problem solving many smiles and laughs were had by all.