Carter's Blog
Think about the last time you were 7+ emails deep in a "reply all" or one-on-one email chain in your business life.  It probably had something to do with making a decision, a negotiation or getting a question answered. Why did the chain go that long? How was it working out for you at the time? Exactly. I CAN'T ...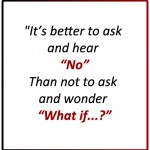 Yesterday I sent out an email asking a question - then soon after sending thought to myself "I think I already know the answer, why did I set myself up for 'No'?" Have you ever done that?  Maybe you were asking for: a promotion, a contract closing, some help from a friend, a favor from a ...
Read all blog posts...